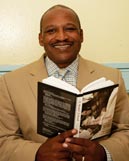 Bryan Carter, CEO & President, Gesu School

Bryan Carter's life has come full circle as the President of Gesu School, the nationally renowned independent Catholic school serving North Philadelphia's children. As someone who credits his Catholic grade school and Jesuit high school education with helping him face the challenges of growing up with five brothers in a single-parent household in the heart of Cleveland, he knows first-hand the incredible power a quality education can have for children living in the inner city.
In June 2011, Carter became Gesu School's 3rd president and CEO since the school became independent in 1993. Prior to joining Gesu School, Carter served as Resource and Community Development Director for the national adoption agency, The Cradle. Through his position with The Cradle, which has placed more than 14,000 children into permanent homes since its founding in 1923, Carter increased the number of donors by 67 percent, increased the number of dollars raised by 86 percent, and achieved goals set for encouraging African-American individuals to become adoptive parents. Carter believes the work was a wonderful way to apply the business skills he developed as an entrepreneur and Pharmaceutical Manager with Johnson & Johnson, Abbott Laboratories, and Pfizer towards a valuable cause while giving back to the community — and he looks at his position at Gesu as an extension of that privilege. Additionally, Carter serves on the Diversity Committee at Waldron Mercy Academy, the Equity and Justice Committee at Merion Mercy Academy, the Board of Trustees at the Shipley School, and the Board of Directors for the SpeakUp! organization.
Carter holds a Bachelor's Degree in Political Science and Business Management from Case Western Reserve University. He and his wife, Joan Roebuck-Carter, reside in Chestnut Hill with their daughter, Elaina.