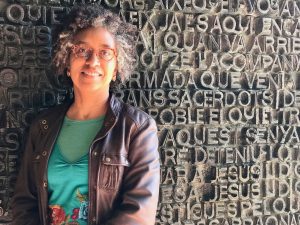 Hilary Beard | Writer. Public Speaker. Trainer. Coach.

Hilary Beard has a training and development business that educates people through writing, training, speaking and coaching—empowering them to fulfill their destiny. She has pursued a portfolio career.
Over the past 18 years, she has been independently employed as a writer and editor whose work focuses on the health and wellbeing of Black communities and marginalized people. She has been the editor-in-chief of Real Health: The Publication of Black Wellness; the National Medical Association's Healthy Living magazine; HealthQuest: The Publication of Black Wellness; and The Black AIDS Weekly, the electronic publication of the Black AIDS Institute. Hilary researched and wrote the first report on Black women and HIV/AIDS, "Getting Real: Black Women Taking Charge in the Fight Against AIDS. Every two years, she leads a team of volunteer journalists who report to Black America from the International AIDS Conference, the world's largest health conference, as it travels the world. Her writing has appeared in Essence to Ebony, Health, The Root, Colorlines, and more.
Hilary's expertise includes book collaborations. She has written 15 books and won two NAACP Image Awards—for "Promises Kept: Raising Black Boys to Succeed in School and in Life," a research-based parenting guide for the parents and educators of children of color (2015); and "Health First: The Black Woman's Wellness Guide" a book on healthy living and self-care for African American women and tween girls (2013). Recently, she supported NASA mathematician and "hidden figure" Mrs. Katherine Johnson as she penned her autobiography for tweens, titled "Reaching for the Moon," to be published on July 2, 2019.
Hilary researched and wrote the first "White House Report on African Americans and Education" for the Obama administration's White House Initiative on Educational Excellence and African Americans, a gold-standard report intended to be the transitional document to the incoming president and used to guide fact-based policymaking nationally. Under the Trump administration, it remains unpublished.
Hilary repurposes her research as a public speaker and trainer, covering topics ranging from research-based strategies for raising and educating Black children, to implicit bias, to self-care for educators, to closing the school-to-prison pipeline and ending racial discipline gaps. Her in-service trainings help school leaders and educators deepen their skills in diversity, equity and inclusion.
Recently, in response to the rise of the racists, she has repurposed her research into an online course to support the parents of Black, "Obama generation" children parent their children successfully amidst overt racism and bigotry. In other words, in 1965 but with Nike's and iPhones.
In 1997, Hilary left Corporate America, where she'd worked in sales, marketing and general management for Procter & Gamble, Johnson & Johnson and Pepsi. After following that passion, she became a personal-development coach. She helps people who are outgrowing their job or career to push past fear, uncover their current passion and develop strategies to step into their new season professionally. Hilary is an honors graduate of Princeton University and lives in Philadelphia.